Team Member Spotlight: Michelle Jagelka
Meet our Relationship Specialist, Michelle Jagelka.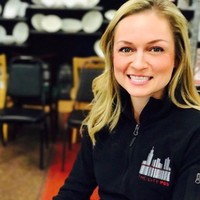 Michelle is the programmer for all Point of Sale menus and databases. She is the master trainer and will most likely be the 2nd person you meet after signing on with The City POS. She trains accounts prior to go live and provides demonstrations on all of our products to both our team and our customers. To say Michelle is a rockstar is an understatement. We wanted you to know a little more of who Michelle is so we conducted a very formal interview with her:
How long have you worked for The City POS? Four years
What do you like most about working at The City POS? I love working with the team here. We have a great dynamic. I also love meeting and working alongside so many great clients and merchants. I have been able to visit so many great restaurants and retailers that I'm incredibly proud to work with. Plus being one of the first ones to know about an opening restaurant or retailer is always pretty cool. The fact that I can bring my dog, Asparagus, with me is always a perk too!
Where are you from? I'm a Northern California native!
What is something people would be surprised to know about you? I have my teaching credential to teach grades K-6th. I believe having this skill set has been incredibly helpful for me when conducting my demonstrations and training.
Outside of Work, What Do you Like to Do? I love spending time with my family, exercising and traveling with my boyfriend.
Where Was Your Last Trip? We were most recently in Utah and then took a trip to Hawaii. One of my favorites though was visiting Japan.
Tea or Coffee?  A Dirty Chai Latte
Does Pineapple Belong on Pizza? Yes
Thank you Michelle for everything you do to help our customers get set up with The City POS  and for your amazing service!